Inclusive Voices Gathering
Connecting, Inspiring, Improving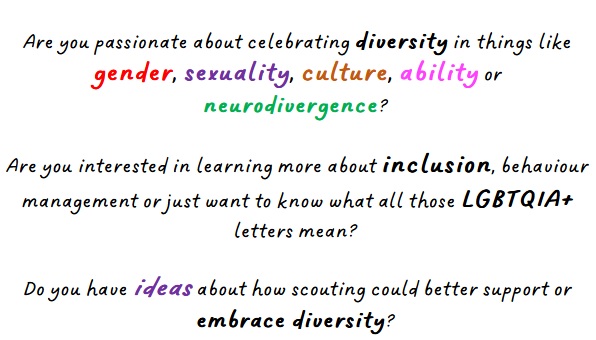 If you answered yes to any of these questions, we invite you to join a Scouts SA Inclusive Voices Gathering.
This is an informal get together for Scouts SA members of all ages to meet.  We hope to connect members with similar interests to each other. With the aim to inspire and collect ideas for ways scouting could further embrace diversity and inclusion in South Australia. 
We are planning 3 gatherings throughout the year.

Session 1
When: Saturday 1st July 2-4pm
Where: Ascot Park Scout Hall (51 Sixth Ave, Ascot Park SA 5043) 
Activity: Help paint a banner inspiring others to celebrate of diversity 
Session 2
When: Saturday 23rd September 2-4pm

Session 3
When: Saturday 2nd December 2-4pm
Where: Salisbury Scout Hall (Salisbury Recreation Reserve, Memorial Avenue)
Activity: Step into Sensory Wonderland: A Journey into Others' Worlds!
Wear your scout neckie with your choice of casual clothes or a scout shirt. 
Tea and coffee provided 
If you have any questions, or adjustments we could make to enable you to attend the gathering, please contact Christie Morrison at 230701@sa.scouts.com.au