Scout Group Websites
A website is a great way to promote your Scout Group to your local community and communicate with your Scout Group members, and promote activities and other events within the Scout Group.
Websites for Scout Groups are run through our main Scouts SA website to provide consistency with our branding and Scouts SA. While these elements can't be modified you can generally control the other elements of the site, add pages etc. as needed.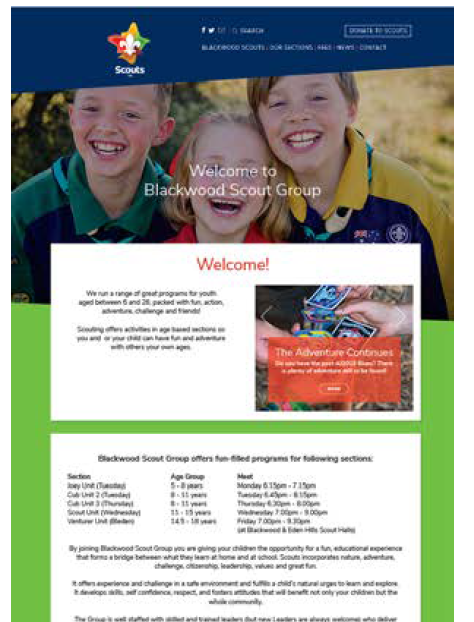 How to manage your website!
To manage your website we have put together in partnership with the website developers some easy-to-use YouTube videos that will make life easy for Group Leaders or Webmasters to manage, and modify the website.
Please watch the videos below to learn how to access and manage your new website:
How to add and edit a gallery
Adding an external Link opening in a new tab
Adding a link to another page within the website
Who Can Access Your Website
When a website is intially setup the Group Leader or Leader in Charge are automatically given an account.
If you wish for any other individuals to be able to Administer the website you will need to complete and A3, and have them appointed as a Webmaster.
Once the paperwork is completed please send to Head Office, where if necessary a Scouts SA official email account will be created and then a user account will be created on the website.