Free CPR Training
With St John Ambulance SA and Masonic Charities
St John Ambulance SA has been awarded a grant from Masonic Charities SA & NT to train 6,000 people over three years in lifesaving cardiopulmonary resuscitation (CPR). 
Scouts SA has been offered the opportunity to be involved with this training free of charge! 
Participants will receive this free nationally accredited CPR course, free personal leisure first aid kit and Statement of Attainment for HLTAID001 Provide Cardiopulmonary Resuscitation.
How to apply
Use this online form to create your course request
For individuals interested in this opportunity please email program@sahq.scouts.com.au 
Contact Scouts SA
For Scouts SA queries relating to this program please contact program@sahq.scouts.com.au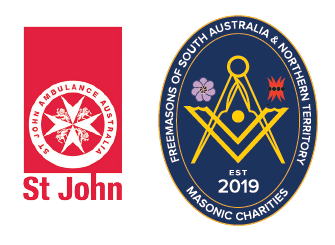 FAQ
I don't have a suitable venue where can we go, can you help?
The venue being used needs to be free from clutter, have enough spacing for participants and trainers to work, be available prior to the start time etc.
If you don't have a suitable venue you can book Scout HQ by calling 8130 6000 or emailing hq@sahq.scouts.com.au
Can I do this as an individual?
You might be able to join in with another group, please email program@sahq.scouts.com.au for assistance.
Can my Scout Unit do this together?
Yes, you can book in a Unit of Scouts, Venturers, Rovers, or parents as long as you have between 10-18 participants and they are aged 13 or over

Do I have to be physically fit to participate?
Practical components of this course require movement such as bending, kneeling and lying on the floor. Please wear appropriate clothing for those activities 
All enquiries should be made to St John on 1300 78 5646
Can I bring members of my family?
Yes, as long as they are over the age of 13.
 
Can I book in all the leaders and my committee?
Yes, this is open to all of our Members and their families!

How do I book?
Complete the online booking forms (link above)
What do I have to bring?
All the requirements are listed in the booking forms.
How long does it go for?
The course takes approximately 3 hours.