A Return to Face to Face Scouting
Scouts SA has continuously monitored the progress and response to COVID-19 in our community, including in June/July 2020 of the lifting of restrictions on organisations and businesses.
Our return to face to face Scouting is developed in conjunction with advice from the Federal and State Government. There may be need to adjust this roadmap as new announcements come out, and this page will be the reference point for all updates.
To support this return a number of resources and references are available from this page.
All Units, Groups, Activity Teams and areas have an important role to play in being prepared and ensuring appropriate measures and plans are in place to reduce risk of spread of Covid-19.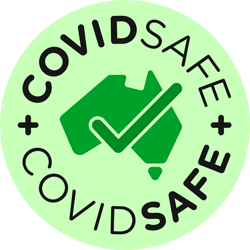 Resources
The following resources have been prepared or links provided to existing resources for your use.
These resources will be provided to each Group as part of a pack from Branch
COVID-19 Pack: Available from your District based meeting soon
Additional posters/resources
FAQ
A range of questions to clarify any of the information put out by Scouts SA
Can we still run a camp/overnight activity
The focus of our recommendations are around minimising the potential for spread/transmission of COVID-19. Where possible activities should be minimised to 2 hours or less.
If your Unit / Group / team program includes a camp/overnight activity consider the need for it – if you can appropriately risk manage and have this signed off by your GL then you can proceed. Remember to consider all guidelines and recommendations and consult with members/families about decisions and requirements.
Roadmap to Return
Current Scouts SA Roadmap for Return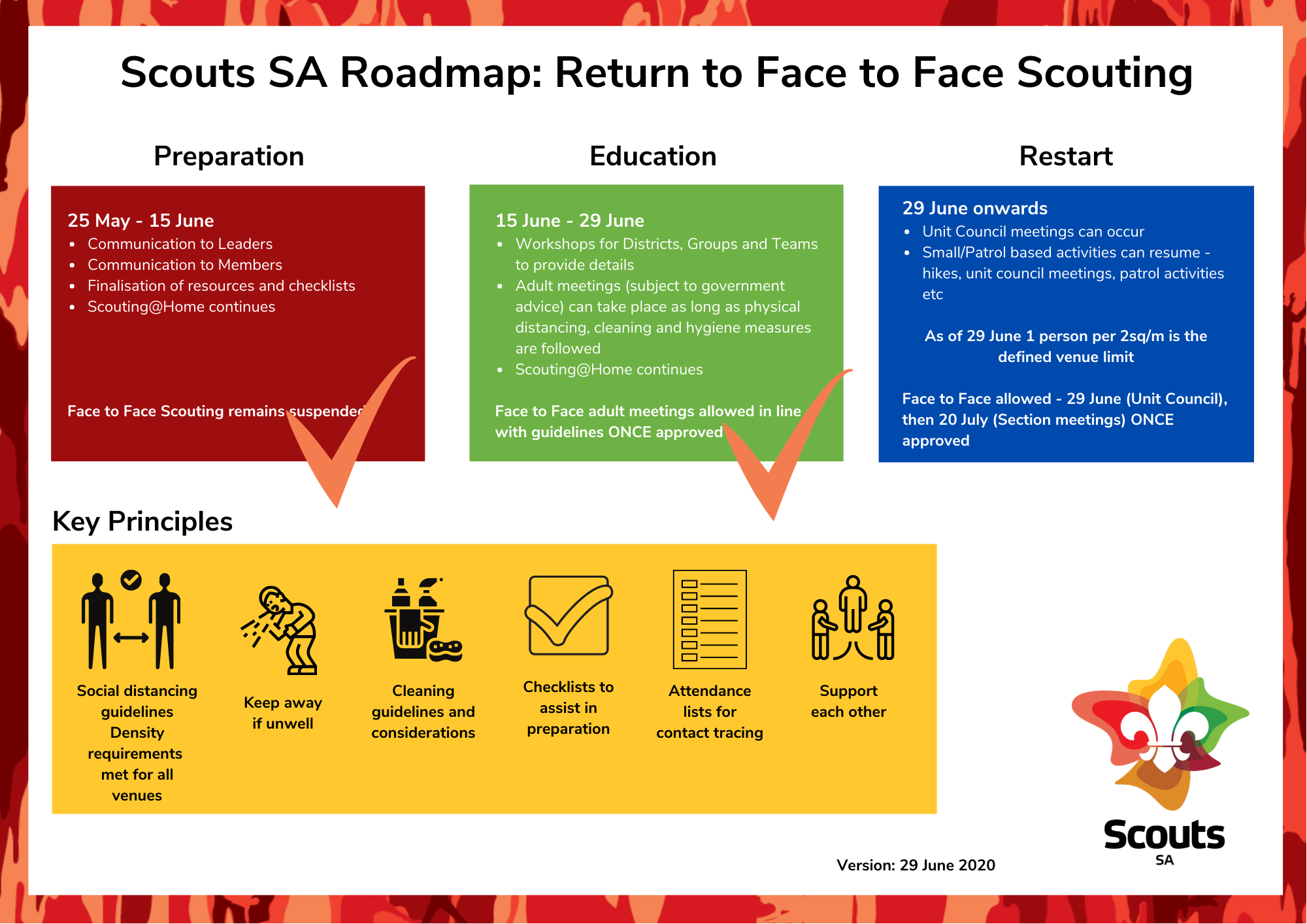 The roadmap for return of face to face Scouting in SA is based on a number of key factors that see us return in a safe, measured and considered way to face to face Scouting.
This roadmap considers all SA Government requirements in terms of use of our halls and facilities.
As a Group/Team what do I need to do?
For Groups
Please review the Checklist and start the preparations to ensure your Hall is ready for a return to Face to Face Scouting.
At the conclusion of your scheduled District Presentation, all Group Leaders will receive a link to the online version of this document to complete.
Scouts SA will use these completed checklists to finalise a SA Government ?COVID-Safe Plan? on behalf of each Group.
A copy of the COVID-Safe Plan and a ?COVID-Safe Plan – Record of Completion? will be emailed to you by your District Commissioner within 48 hours of completion.
For Teams/Sections
Please review the Checklist and start the preparations to ensure your activity is ready for a return to Face to Face Scouting.
Complete the checklist online when provided the link from your relevant Assistant Chief Commissioner
If requested, complete a group/hall checklist
Checklists
Prior to recommencing face to face activities or use of our halls/facilities Groups will need to complete a checklist for endorsement by their District Commmissioner and provision of a COVID Safe-Plan certification from Scout HQ.
The checklist is available here for viewing prior to completion of the online checklist which will be used to produce a SA Government COVID-Safe plan.
Questions
Any questions should be directed to
Groups through to your District Commissioner
Activity Teams through to your Assistant Chief Commissioner
For any questions that can not be answered from here please email hq@sa.scouts.com.au?